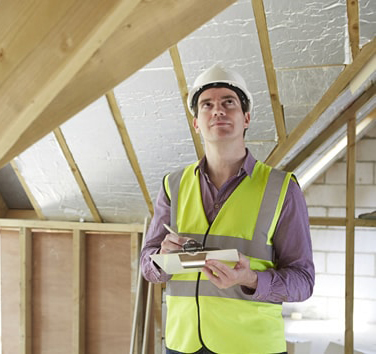 Asbestos Testing in the Denver Area, Central Mountains, and Frisco Colorado
Do I need an asbestos test?
If you're asking this question you've come to the right place. In Colorado, any man-made building material being removed needs to be tested for asbestos, regardless of age, if its over a threshold size. This threshold size depends on what type of material is being removed.
There are 3 categories for man-made materials: Surfacing materials, Thermal System Insulation, and Miscellaneous materials. Surfacing materials are defined by the method in which they are applied. Usually, they are mixed and then sprayed or troweled onto a surface. These include: drywall texture, popcorn ceilings, stucco, glues and mastics )that are behind tiles and flooring), and some roofing materials. Thermal system insulations are materials used to insulate heating systems (including their pipes and ducts) and water system pipes.
Miscellaneous materials are wallboard (with or without joint compound), man-made siding, shingles, roofing felt, and a whole host of other materials. Below you will find the size thresholds that will trigger a need for testing for each of the 3 types of man-made materials.
Residential Asbestos Testing Trigger Levels
Commercial Asbestos Testing Trigger Levels
If your project exceeds any of these trigger levels you will need an asbestos test per Colorado state law. eTest Network is happy to help you answer any questions about the testing process, discuss the potential extent of the testing needed, and to schedule a time to come out and perform the test. In most instances we can give you an estimate over the phone. You will need to know the types of materials to be removed and the size of these areas.It's important to note that asbestos which is installed and undisturbed is, in most cases, harmless. When the material that contains asbestos is damaged or disturbed, then fibers can be released which may cause heath problems. Remodels, restoration, or demolition are all cause for suspect materials to be tested.
List of Potentially Asbestos Containing Materials
What do I do If Asbestos is Found?
Any asbestos found over a concentration of 1% is subject to regulated removal practices if you are exceeding the trigger level listed above. In this case you have two options. First, if you are the owner of the property and you live on site, you have the option of removing the material yourself in a manner that leaves the space uncontaminated. Or, you will need to hire an abatement company to remove the material.
"The company must be licensed by the State of Colorado Department of Public Health and the Environment (CDPHE)."
eTest Network does not do abatement because we believe that its in the interest of our clients. When we give results we don't want any question as to our motives in the outcome of those results. We are happy to refer you to one, or three, options for abatement companies.
The testing may reveal that there is asbestos but in a concentration of less than 1%. In this case it is legal, according to the CDPHE, to remove the material as if it didn't contain asbestos at all. However, there is a caveat, and that is the State of Colorado CDPHE is not the only regulating body when it comes to asbestos.
"The Occupational Safety and Health Administration (OSHA) has regulations against putting workers in harm's way. "
Because there hasn't been an amount determined as a safe exposure level of asbestos even the amount under the concentration or the size threshold is still regulated as potentially harmful by OSHA. Therefore technically you would still need an abatement company to remove any amount of asbestos. We understand that this may seem confusing but it is simply the result of many different agencies with different agendas and different classes to look after.
Note: in many instances it is possible to find a contractor willing to remove less than the threshold amount of material, or material in a concentration of less than 1%. Be advised, this may not be the most honest way to move forward. Please give us a call to discuss things in more detail if you find yourself in this situation.
Human lungs breathe in dust and particles everyday. Our immune systems defenses do a great job of clearing these irritants from our bodies since they are, on a relative scale, large and round. Asbestos fibers on the other hand, are very small. These small fibers can get lodged in the lungs like a splinter. Asbestos "splinters" cannot be cleared by the immune systems defenses. After a latency period of years these fibers can cause a host of diseases including Asbestosis, Lung Cancer, and Mesothelioma.
eTest Network is a Colorado Department of Public Health and Environment (CDPHE) registered Asbestos Consulting firm and Lead Evaluation Firm
Asbestos Consulting Firm- Registration #: ACF-20073

Myth
You can no longer buy asbestos containing materials.

Truth
Asbestos production was banned in the United States yet the importation of asbestos is legal. We found asbestos in the drywall of a home built in 2004.